Run the Blades is a totally unique event held exclusively within the UK's largest onshore wind farm, Whitelee Wind Farm. The site offers a real feel for the great outdoors, but is a convenient 20 minute drive from the bustling centre of Glasgow. Incorporating three distances – a 10K, half marathon and 50K ultramarathon – the event makes trail running accessible to runners of all fitness and experience levels.
All three of the challenging routes cross through mixed moorland and trees, passing wind turbines that tower 140 metres above the trail. Picture a futuristic forestry land… it sure is a mesmerising distraction from those burning muscles! What's more, you could be lucky enough to spot one of the hundreds of bird species, adders or deer that live within the site boundaries. On a clear day you'll be able to see Glasgow and even the coast of Northern Ireland in the distance. We encourage family and friends to come along for a fun filled weekend, there will be lots of excitement and tasty goods on offer at the vibrant event village. Run the Blades is fully supported by Whitelee Countryside Ranger Service and we value the support of the local Eaglesham community.
10K
Friday 19th July 2019 – 19:30 HRS
A perfect introduction to trail running around a relatively easy but rolling route. You'll be hard pushed to find a 10K near Glasgow with scenery as good as this. Limited spaces.
Route details
Half Marathon
Saturday 20th July 2019 – 10:00 HRS
So you've bagged a few 10Ks but don't fancy the big dunter just yet? Then the half marathon is the race for you. The perfect distance to raise money for your favourite charity.
Route details
50K Ultra
Saturday 20th July 2019 – 09:00 HRS
Bridging the gap between marathon and the longer ultras? The original Run the Blades length offers competitors the opportunity to step up from road marathon to ultra trail running.
Route details
Run the Blades
Whitelee Windfarm
Moor Road
Eaglesham
G76 0QQ
Event Info
Date

Friday 19th and Saturday 20th July 2019.

Price

Early bird will be open for the first two weeks after launch at £3 cheaper than the full price. Full price: 10K = £25, Half Marathon = £28, 50K = £36.

Accessibility

We aim to create accessible events. The Visitor Centre is on one level with accessible entrances, disabled toilets and parking available. Drop events@breakingstrain.co.uk an email with your requirements.

Venue

Whitelee Wind Farm (20 minutes SW of central Glasgow).

Registration

Registration for the race will take place in the Event village located at Turbine 53 (which will be fully signed).

Time

The 10K will take place on Friday evening; the half marathon and 50K ultra will start on Saturday morning. See times for each event above.

Parking

There is designated parking on-site for all three events.

Mandatory Kit

Mobile phone (to call the Race Director) in case of emergency, foil blanket. Also a waterproof skin, a smile.

Checkpoints

The 50K ultramarathon has four checkpoints, the half, two and the 10K, one. Drop bags can be left at the checkpoints on the 50K ultra only.

Routes

Routes for all three events will be the same as last year. Please note that routes are subject to change due to the operational needs of the wind farm.

Goody Bag

Everyone loves a goody bag and we're no different. Medal, t-shirt & a selection of other nice stuff.
Scottish Power Renewables, Proud Sponsors of Run the Blades.
"We are delighted to be sponsoring Run the Blades as part of our programme to encourage access to Whitelee and promote health & wellbeing."
– Keith Anderson, CEO, Scottish Power Renewables.

Event Scotland, proud Supporters of Run the Blades.
"In Scotland's Year of Young People 2018, we are proud to be supporting Run the Blades through our National Funding Programme, helping events outside of the major cities and developing domestic tourism across Scotland"
– Paul Bush, Director of Events, VisitScotland.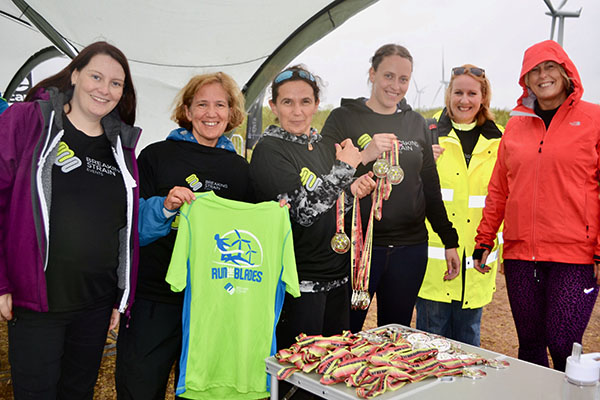 Volunteer for us.
Volunteer for us on one of the days and we'll give you a free entry to a race on the other day! You'll also get a crew garment and a packed lunch. Limited places available.
Contact events@breakingstrain.co.uk or 07753 620528 to find out more.