*** FRIDAY 19th – SUNDAY 21ST JULY 2024***
Run the Blades is back and it's bigger and better than ever. RTB has grown to become one of the largest trail running events in the UK and is a totally unique event held exclusively within the UK's largest onshore wind farm, ScottishPower Renewables' Whitelee Wind Farm, just  a  20 minute drive from the centre of Glasgow. Incorporating three distances – a 10K, half marathon and 50K ultramarathon – the event makes trail running accessible to runners of all fitness and experience levels.
So, what to expect? Turbines towering 140 metres above your head, robust route signage, friendly marshals and support, the best race medal and amazing goody bag (we put the 'good' in goody bag), a vibrant Event Village with music, a cracking coffee van and food trucks. Three challenging routes and a bit of a hill to test yourself near the end.
ENTER NOW
10K
Friday 19th  July 2024 – 19:30 HRS
A perfect introduction to trail running around a relatively easy but rolling route. Watch out for 'that hill' near the end. You'll be hard pushed to find a 10K near Glasgow with scenery as good as this.
£26
Route details
50K Ultra
Saturday 20th July 2024 – 09:00 HRS
Bridging the gap between marathon and the longer ultras? The original Run the Blades length offers competitors the opportunity to step up from road marathon to ultra trail running.
£38
Route details
Half Marathon
Sunday 21st July 2024 – 10:00 HRS
So you've bagged a few 10Ks but don't fancy the big dunter just yet? Then the half marathon is the race for you. The perfect distance to raise money for your favourite charity.
£31
Route details
Junior RTB
Saturday 20th July 2024 -10:30 HRS
New for 2023, Under 16s can  finally join the Run the Blades community. Starting and finishing in the Event Village kids can take on the RTB mile. Sprint, run or toddle.  
Price: FREE (please register though)
Route TBC
Run the Blades
Whitelee Windfarm
Moor Road
Eaglesham
G76 0QQ
Event Info
Date

Friday 19th July (in the evening) – Sunday 21st July 2024.

Price

10K = £26, Half Marathon = £31, 50K = £38

Accessibility

We aim to create accessible events. The Visitor Centre is on one level with accessible entrances, disabled toilets and parking available. Drop events@breakingstrain.co.uk an email with your requirements.

Venue

Whitelee Wind Farm (20 minutes SW of central Glasgow).

Registration

Registration for the race will take place in the Event village located at Turbine 53 (which will be fully signed). Please turn up for registration in plenty of time as the later you are the further you'll have to walk from your car. You'll collect your race number on the day of the event and won't be sent anything in the post.

Time

See times for each event above.

Parking

There is designated parking on-site for all three events.

Mandatory Kit

Specific kit requirements will be detailed in the Race Pack emailed to participants in advance of the weekend. All participants, regardless of race, must carry a mobile to call the Race Director in case of emergencies. A smile. Sense of humour for the hill at the end.

Checkpoints

The 50K ultramarathon has four checkpoints, the half, two and the 10K, one. Drop bags can be left at the checkpoints on the 50K ultra only.

Routes

Routes for all three events will be the same as the established routes in previous years. Please note that routes are subject to change due to the operational needs of the wind farm.

Goody Bag

Everyone loves a goody bag and we're no different. This will include a spinning medal, water and selected food items.

Prize

1st, 2nd and 3rd male and female for each distance will receive a trophy and prize money.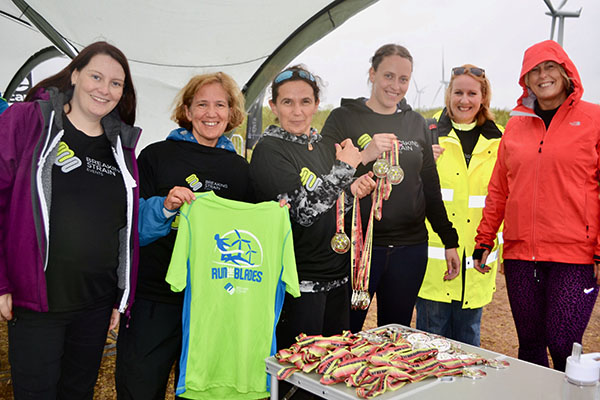 Volunteer for us.
Volunteer for us on one of the days and we'll give you a free entry to a race on the other day! You'll also get a crew garment and a packed lunch. Limited places available.
Contact events@breakingstrain.co.uk to find out more.